Apply Online
Smt. Tejal Amin
Chair person
Navrachana Education Society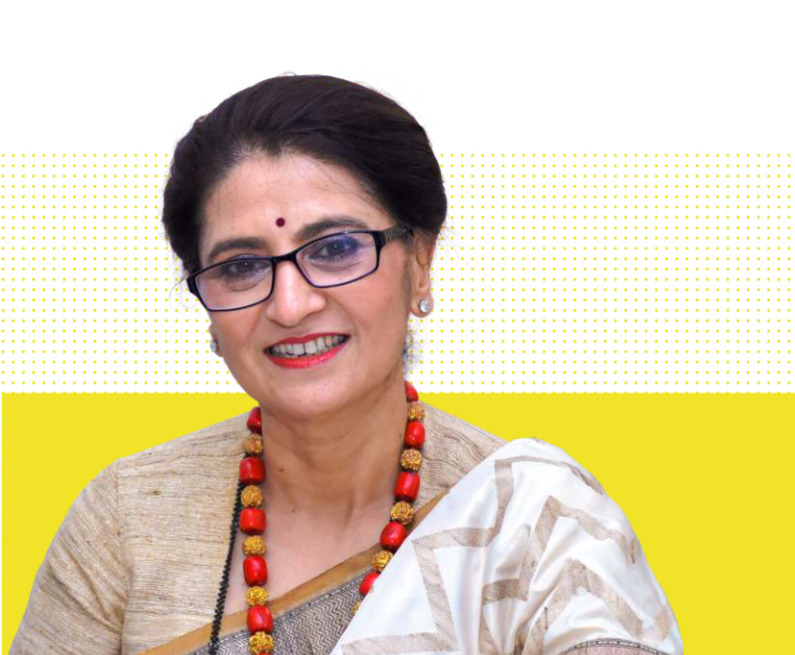 As Chairperson of the Navrachana Education Society, Ms. Tejal Amin has driven its qualitative expansion from a single institution to more institutions, including leading schools, affiliated to state, national and international education boards, innovative programs covering sports coaching, a schooling program for underprivileged children, a skill-based program for girls and women, and Navrachana University.
Tejal Amin has been closely associated with Industry, Education and Socio-cultural activities in Vadodara for the past 35 years. Through her endeavours, the Navrachana Education Society provides schooling to over 10,000 students every year with over 500 qualified and experienced staff, teachers and proactive principals (many of whom have been conferred with the President's award). Ten Anganwadis in the city are also supported by the Navrachana Education Society.
Tejal Amin is a director at Jyoti Ltd. and a full-time director at JSL Industries, Mogar, both leading engineering companies in India, manufacturing high technology engineering products.
Her deep and focused involvement in several socio-cultural activities has shaped her as someone who looks at the several contemporary challenges facing our city of Vadodara. A Visharad and Gold Medallist in Bharatanatyam, she is the Secretary and Founder Trustee of Ghargharika, a non-profit organization devoted to sustaining and promoting interest in the Performing Arts, especially in classical dance in Vadodara. In 2014 she was nominated as Brand Ambassador of the Swachh Bharat Abhiyan movement in the state by the then Chief Minister of Gujarat, Smt. Anandiben Patel, a position she continues to hold and work on actively. She has been a Government nominee member of Senate and Syndicate of Maharaja Sayajirao University of Baroda. She is also the Founding Director and Chairperson of the Organizing Committee of the Vadodara Marathon, a non-profit company creating civic awareness through the popular marathon and other activities, raising funds to improve infrastructure and quality of life in Vadodara. The Association of International Marathon (AIM), Greece, has given the Vadodara Marathon the title "Smallest City, Biggest Marathon". The Vadodara Marathon has subsequently triggered marathons in several cities and towns of Gujarat.
In 2016, she was conferred with Glory of Gujarat Award by the Indian Council of Social Welfare, Gujarat, presented by the Hon'ble Governor of Gujarat, Shri O. P. Kohli.
TOP