Apply Online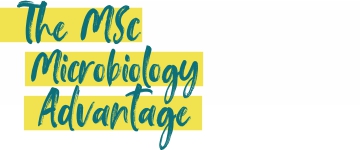 Demand of the Decade

Health is going to remain one of the primary concerns this decade, advances in MSc microbiology will be at the forefront as a promising and burgeoning sector.
Develop a Wide Range of Laboratory Skills

A course such as this requires immense knowledge and skills in the laboratory. With state-of-the-art labs, students are equipped with a wide range of laboratory skills that will prove invaluable in their medical and agricultural research
For the Scientists in the Making

Conduct major independent research through an MSc in microbiology course for your own benefit as well as for the public at large.
Diverse Career Options

Microbiology opens up career options in research and development, agricultural innovation, biotechnology, pharmaceuticals, public health, food security, vaccine development and in the hospital and healthcare sector

The
School of Science
at NUV focuses on disciplinary, and a wide range of interdisciplinary courses to broaden students' perspectives and knowledge in science. The high quality courses are conducted by qualified teachers, along with guest faculty from the industry, subject experts and independent researchers. The school also collaborates with the industry for research and development on real life projects, making students industry-ready.
A robust placement assistance program is in place at NUV that bridges the gap between the candidate's aspirations and industry expectations. Some of the leading companies in pharmaceuticals and clinical research employ students from School of Science at NUV.
Researching MSc microbiology fees is crucial when pursuing a master's degree in medical microbiology. NUV has been recognized as a Postgraduate Capacity Building Cell by the Gujarat Government. As part of this cell, we undertake rigorous year-round training and orientation programs, including capacity building lectures, guest lectures, weekly progress-assessing tests, aptitude tests, mentoring sessions, group discussions and develop a collection of resources towards creation of competitive manpower.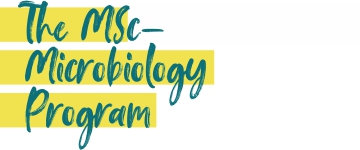 Designed for students interested in Microbiology, the course offers specialization in Medical and Agricultural Microbiology. The course is customized to fulfill the requirements needed to compete with the current developments in scientific research.
Earning a masters of Microbiology can open doors to diverse career opportunities. Lectures and practicals, along with skill building through technical and research oriented programs, make the course more engaging. Further, to ensure a learner centric environment, guest lectures are conducted by eminent academicians, scientists, industry and subject experts. Quality research and training is ensured by providing hands-on practical training through advanced laboratories with modern instrumentation.
M.Sc Microbiology @ NUV Advantage
Holistic development of students (analytical and cognitive skills) with overall personal development
Contemporary curriculum to meet the needs of the industry (Biotech, Pharma, Clinical Data Management, Molecular Diagnostics)
Exposure to state-of-the-art Cell Culture Lab, real time PCR, HPLCs etc.
Special emphasis on regulatory affairs for those aspiring to work in medical and agricultural microbiology
Provision for extra credits for areas of special interest to students
Pedagogy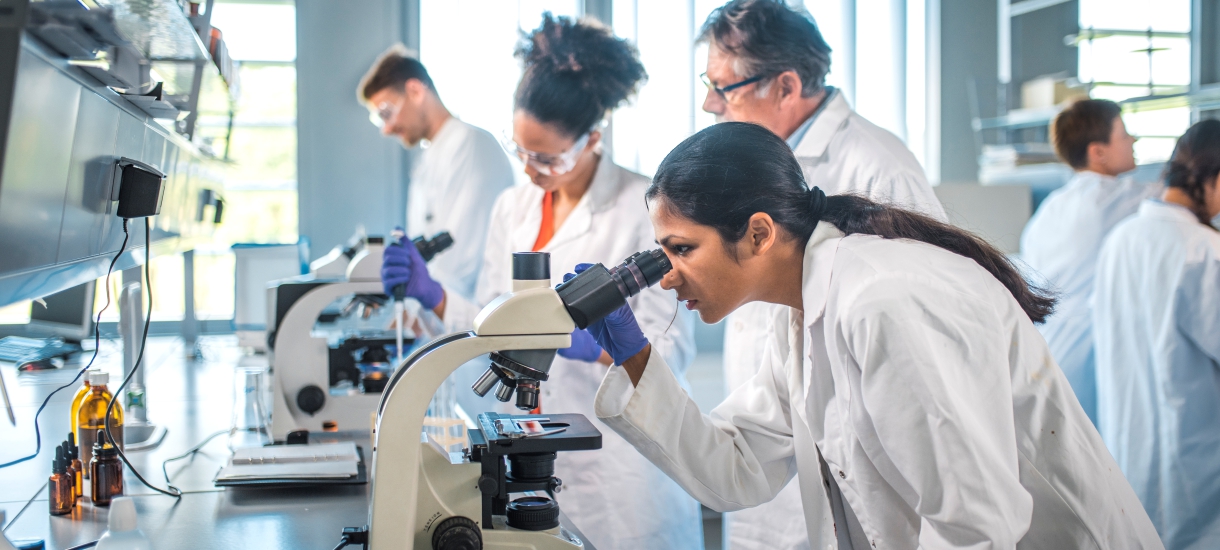 Extensive lab-based practical modules to facilitate contemporary research in Biomedical Science
Six months dedicated exposure to dissertation in collaboration with industry and healthcare setups
Summer projects and hands-on training
Opportunity to work on ongoing projects and on novel, unexplored areas
Guidance for Doctoral Studies and competitive exams like CSIR NET, IFS, IAS, UPSC
Journal article presentations (current state of the art research papers)
Internship & Research Project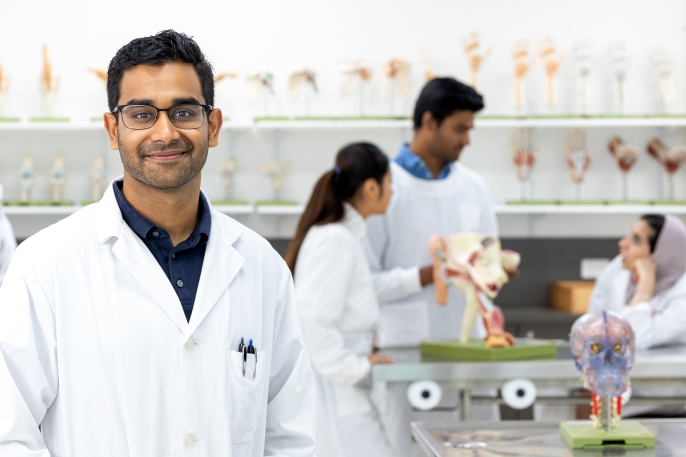 Each student undergoes one credit-based industrial trainings and a research project:
1
2 months
(summer training)
2
6 months
(live research project)
Each student undergoes one credit-based industrial trainings and a research project:
1
2 months
(summer training)
2
6 months
(live research project)
Both summer training and research project provide an opportunity to the students to build a healthy and positive relationship with the corporate world and pave the way for future placement.
Both summer training and research project provide an opportunity to the students to build a healthy and positive relationship with the corporate world and pave the way for future placement.
Industry Connect
Regular live projects, guest lectures, industrial visits and internships expose students to current market and industry functions and needs. This enables students to identify areas of interest, explore possibilities and learn from the industry experts in real-life business scenarios. Students can take advantage of the University's collaboration with CoSara Diagnostics Pvt Ltd and Gujarat Life Sciences Pvt Ltd.

Finding the best university for MSc Microbiology is the first step towards a successful career in the field. The NUV Industry Connect provides our graduates a double advantage - firstly they are more employable, and second, as they have industry experience, they perform better in their first job and therefore, tend to grow faster.
To know more on our Training & Placements process click here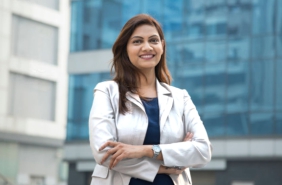 Program Details
4 Semesters
|
95 credits
|
Class size ranges from 20-25
|
Electives in Medical Microbiology and Agricultural Microbiology
Admission Process
Important
Dates

Last date for submitting application form:

Rolling applications till seats are full

Duration

Full-time | Two-year | Postgraduate Degree Program

Eligibility

Candidates who have completed their

BSc degree

from any reputed college or university in any of the following subjects with minimum 50% aggregate marks in Microbiology,

Biotechnology

, Biochemistry, Zoology, Botany,

Life Sciences

, Biological Sciences,

Chemistry

(for Biotechnology) or any other allied branches

Admission
Process

Eligible candidates

are required to appear for entrance test and an interaction with experts of the School of Science

Hostel

Our hostel

for boys and girls situated near the

NUV campus

provides comfortable living with fully furnished rooms, meals and basic amenities like pantry, attached washrooms, gym, reading space, TV room and much more.

Click here to know more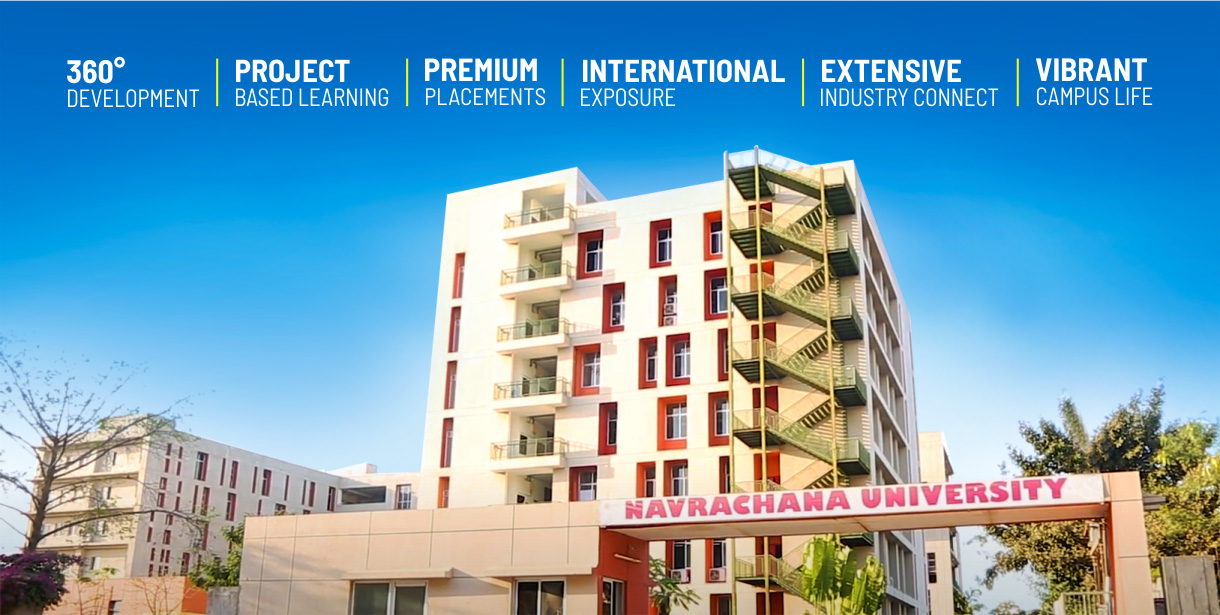 The world you will encounter when you graduate three or four years from now, will not look anything like what it was when the textbooks were written. To ensure our students excel in a world that is changing at a never before rate, we at Navrachana University have developed a
holistic curriculum
wherein the emphasis is not just on gathering knowledge but on 'informed application in the real world'. The MSc in Medical Microbiology program focuses on the study of pathogens and their impact on human health.
Our students are exposed and taught to deal with constantly unfolding unknowns. The goal is to train their mind to be alert, analyze and adapt at an accelerated pace, and swing into action early so that they can lead the change. If you are looking to invest in education that will go beyond your first job and give you a lifelong competitive edge, Navrachana University is where your search ends.
Click on each school to know more about the courses offered
Other Programs Offered at NUV
TOP