Apply Online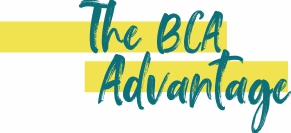 Latest Learning

IT sector is a fast-evolving sector, and hence we equip you with the latest technologies and applications, which are delivered by industry-experienced faculty members.
Industry Connect

We are very clear that the education you receive should be relevant to the industry you are planning to join, and so we include one month social and corporate internships as well as a six-month industrial project in the program.
Managerial Aptitude

We are not only thinking about your short-term future of landing a job, but also about your long-term future of managing a successful IT career by including interdisciplinary and management courses as well as courses on soft skills.
Exciting Future

You have multiple options after excelling in the program, be it placement offers from the best Indian and multinational companies or the best universities for studying further in India or abroad. You may also opt for your own start-up.

Navrachana University has established a top-class School of Engineering and Technology to develop the University as a center of excellence for holistic higher education. As a key provider of knowledge through teaching, research and industry connect in the field of Engineering and Technology, the school has the concept of learning through pure theory as well as application of engineering theory into practice as its basic philosophy.
Emphasis on core engineering with strong laboratory and workshop components
Contemporary curriculum incorporating the best engineering concepts and practices
Hands-on-training on practical problems
Continuous evaluation and closed loop feedback system enhancing self-motivation, transparency and learning
Courses in humanities, management, and communication skills to ensure broad-based education and holistic development
Emphasis on industry-academia partnership for better understanding of engineering education and application
Working in close association with industrial and academic experts, the school offers several unique undergraduate and postgraduate programs in the field of Engineering, with degrees in BTech, MTech, BCA and BSc-Data Science.
B. Tech    |    M. Tech    |    BCA    |    BSc (Data Science)  

This is a unique program focusing on hands-on experience with different technologies and its applications in real life. The BCA curriculum is broad-based with courses from interdisciplinary and management fields, helping students make their career in the ICT industry, study further or set up their own ventures.
Bachelor of Computer Applications (BCA) is a 3-year program designed to meet the evolving requirements of the IT sector and to produce a dynamic breed of computer professionals with excellent managerial skills.
Starting with the basic introduction of computer architecture and programming concepts to web design and database management, and leading to advanced studies in .NET, J2EE and web technologies to Cloud and Android technologies, and the applications of all of these, the program turns you into a professional who has a plethora of options to choose from.
After shining in the program, you will be equipped to work with any IT company, Indian or multinational. You also have the option to study further in reputed Indian and foreign universities. Some of our students also opt to start their own venture.
BCA @ NUV Advantage
Strong focus on practical learning with applications of technologies to real life
Interdisciplinary, management and soft-skill courses for holistic learning
Extensive student-corporate interaction through internships and projects
Exposure to the latest computer technologies and its applications
Complete assistance for campus placement in ICT industry
Pedagogy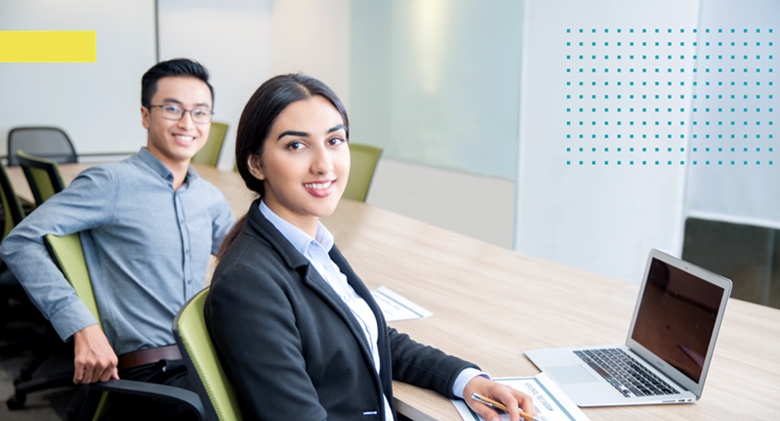 Well-structured classroom sessions, including e-classrooms and flipped classrooms, and personal interaction with faculty
Project based learning (as application of concepts to real-life situations)
Demonstration of practical exercises during lab sessions
Case study-based teaching, programed self-learning and group learning
Interaction with experts through lectures and workshops, experiential learning through industrial and corporate visits
Internship & Research Project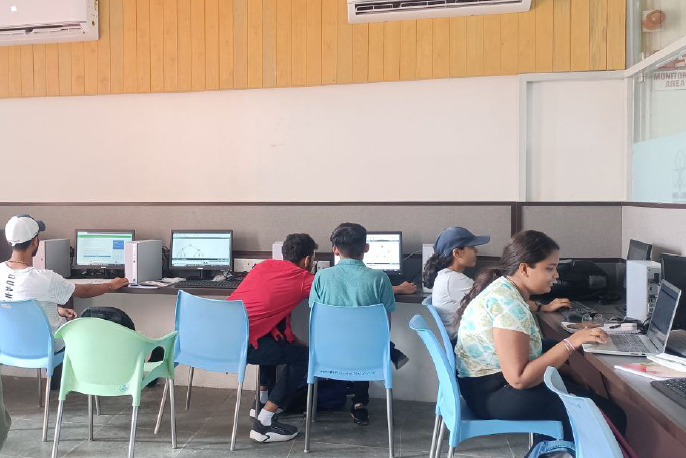 Each student undergoes credit-based, on-job internship:
| | |
| --- | --- |
| 1 | 4 weeks corporate internship after 4th semester |
Each student undergoes credit-based, on-job internship:
| | |
| --- | --- |
| 1 | 4 weeks corporate internship after 4th semester |
Also, an integral part of the degree program is the six-month Industrial Project under the guidance of an experienced faculty member who acts as a mentor. This is a compulsory part of the 6th semester.
Both the project and the internship are opportunities for you to chisel your skills to match corporate requirements, and build positive relationships paving the way for future placements.
Both the project and the internship are opportunities for you to chisel your skills to match corporate requirements, and build positive relationships paving the way for future placements.
Industry Connect
We believe that the ultimate test of our education is your success in an organization. And all our endeavors are guided by that belief.
Whether it is teaching by industry-experienced faculty members or regular interactive sessions and workshops by visiting professionals and domain experts, we inculcate the
business knowledge
required by you to stand out from the competition.
This is followed by field work, projects and internships which make you go out to implement what you have learnt in the classroom. Outreach programs, industry tours, corporate visits and more, are also regularly organized.
Placements
Our approach towards placement is to help you find the right opportunity based on your interests and aptitude and matching it with organizations' requirements.

The placement process is designed to make recruitment at NUV simple and flexible, to optimize your success. During the process, which begins well in advance, students are guided with correct preparation and opportunities. The final placement process is conducted after the course completion.
To know more on our Training & Placements process click here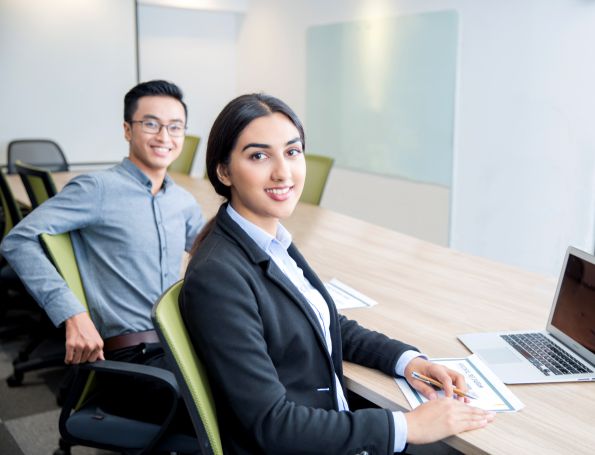 To know more on our Training & Placements process click here











Program Details
6 Semesters
|
48 Courses (128 credits)
|
Class size is about 60
21 Credits for Choice-based interdisciplinary electives
Admission Process
Important
Dates

Interaction and Aptitude Test

Entrance Exam 1

6th July 2023

Entrance Exam 2

13th July 2023

Fee Structure

Rs. 44000/- per semester

Duration

Three-year | Full-time | Undergraduate Degree Program

Eligibility

HSC or equivalent in any stream with minimum 45%. An additional 5% relaxation for candidates

under the following conditions:

State or National Level Sports Player (for last one academic year)
Belongs to SC/ST category

In addition, Conduct Certificate and School Leaving Certificate are mandatory. Please note that the candidates with one subject compartment or failing to provide HSC marksheet will not be given admission.

Admission
Process

Selection of the candidates for admission

to the program is through an MCQ Test (30marks) and Personal Interaction(20marks), with a weightage of 50% each. The MCQ test is based on logical reasoning, general knowledge, basic computer skills and english grammar.

The merit list will be declared after each round of the selection procedure (refer schedule for admission test).

Hostel

Our hostel for boys and girls situated near the NUV campus provides comfortable living with fully furnished rooms, meals and basic amenities like pantry, attached washrooms, gym, reading space, TV room and much more.

Click here to know more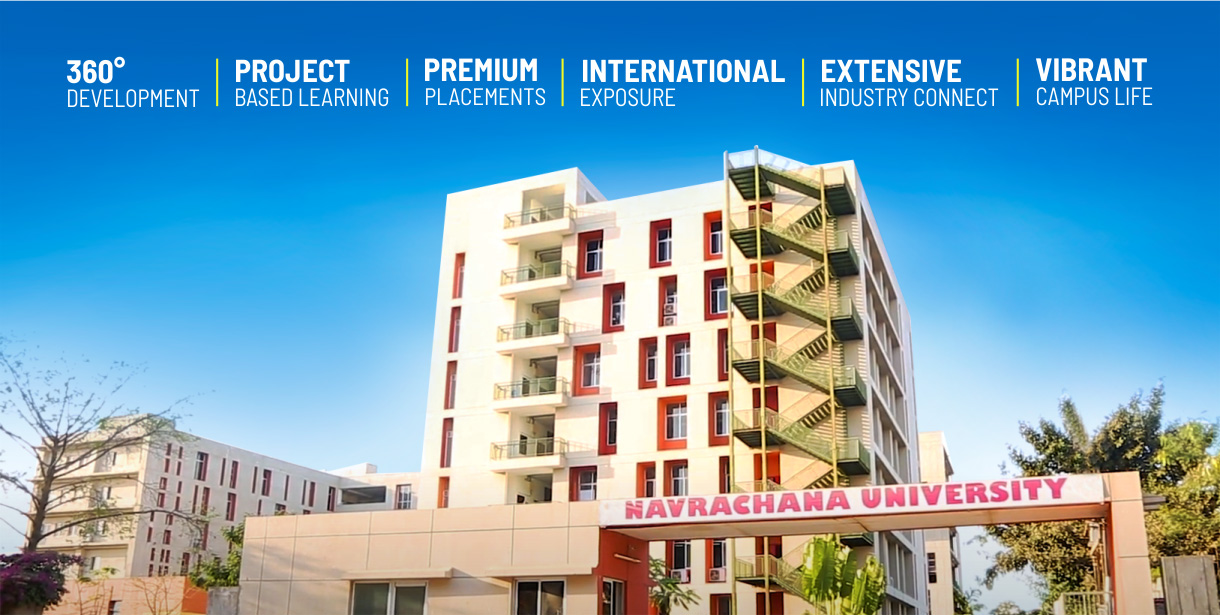 The world you will encounter when you graduate three or four years from now, will not look anything like what it was when the textbooks were written. To ensure our students excel in a world that is changing at a never before rate, we at Navrachana University have developed a holistic curriculum wherein the emphasis is not just on gathering knowledge but on 'informed application in the real world'.
Our students are exposed and taught to deal with constantly unfolding unknowns. The goal is to train their mind to be alert, analyze and adapt at an accelerated pace, and swing into action early so that they can lead the change. If you are looking to invest in education that will go beyond your first job and give you a lifelong competitive edge, Navrachana University is where your search ends.
Click on each school to know more about the courses offered
Other Programs Offered at NUV
TOP