Apply Online
SCHOOL OF
BUSINESS AND LAW
With its innovative programs and outstanding faculty members who have extensive real-world industry experience, the School of Business and Law, Navrachana University, is one of Gujarat's premier institutes committed to creating confident business leaders.
Working in close association with industrial and academic experts, the School of Business and Law offers several unique undergraduate and postgraduate programs in the field of Management (BBA, MBA) and Law (BBA-LLB Integrated and LLM).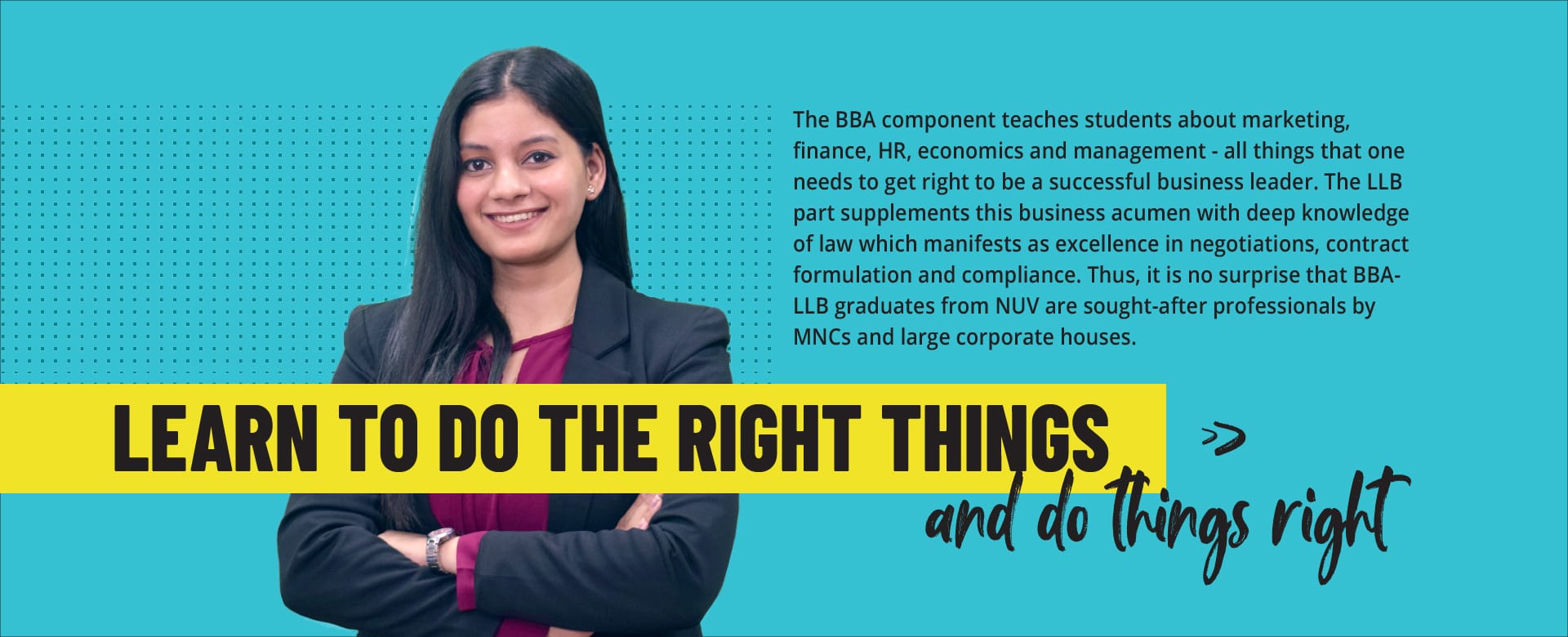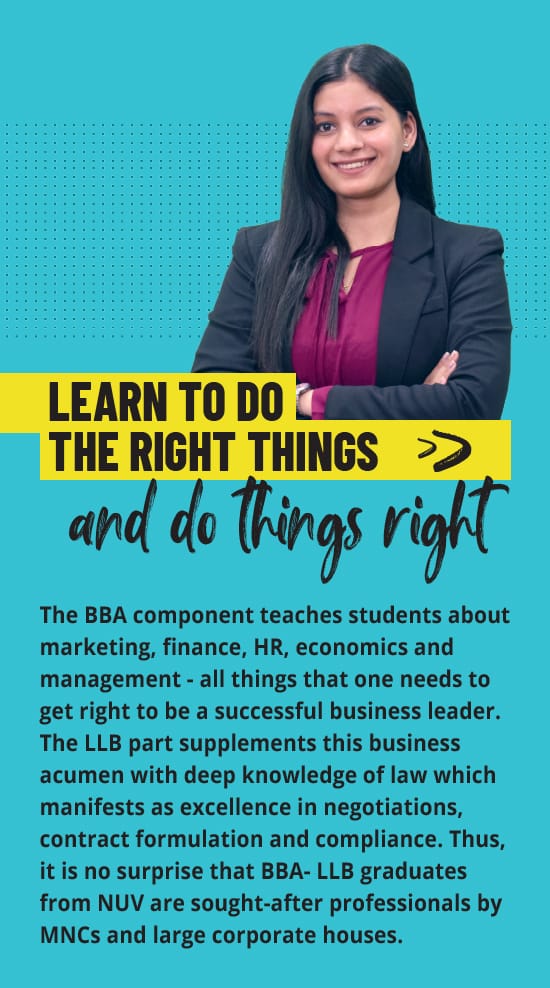 Degree Programs
BBA
Full-time | Three-year and Four-year Hons | On-campus | Undergraduate Program | Placement Opportunities
Get a systematic and well-planned career growth in business and develop managerial and decision-making skills.
BBA-LLB
Full-time | Five-year | On-campus | Integrated Program | Placement Opportunities
Integrated knowledge of business management and corporate law opens up a variety of career opportunities.
MBA
Full-time | Two-year | On-campus | Postgraduate Program | Placement Opportunities
Gain theoretical and practical expertise to develop specific functional skills and a top-management perspective.
LLM
Full-time | One-year | On-campus | Postgraduate Program | Placement Opportunities
Gain an in-depth understanding of Corporate & Commercial Law and Criminal Law that affects businesses, nationally and globally.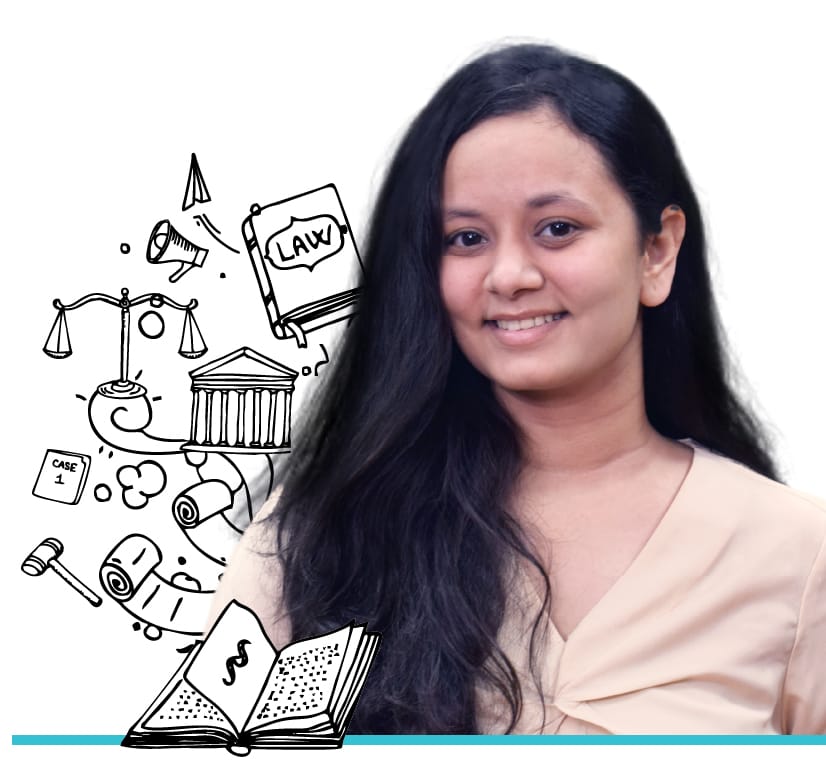 At Navrachana University, we design innovative programs that help students apply theoretical knowledge to practical work-life scenarios. The programs are structured to create adept team players and smart task managers who go on to lead teams and organizations towards consistent success.
With an interdisciplinary learning approach and a flexible open curriculum, each program is designed to develop outstanding industry-ready professionals who:

Acquire leadership
skills and
comprehensive insights

Develop well-rounded
personalities and
versatile skills

Achieve
excellence in
performance

Contribute
towards societal
welfare
The School of Business and Law, Navrachana University, has signed a MoU with the Confederation of Indian Industry, Young Indians (CII-Yi), to help students build a strong network for internships and placements and give their careers a flying start.

Faculty Members
PROFESSIONALS WHO BECAME PROFESSORS
ACADEMIC ADVISORY BOARD
Our Academic Advisory Board gives vision to what the pedagogy must strive to achieve. It provides support and advice to academic programs, assists in the development of new programs, and identifies best-practice standards. Our Board comprises industry leaders, academic scholars and some of the sharpest and most experienced minds in the country.
Awards & Papers
Dr. Anupama Dave
BEST PAPER IN INTERNATIONAL ONLINE CONFERENCE
Awarded the Best Paper at the International Online Conference titled 'Impact COVID-19 on Indian Economy' organized by Department of Economics and Centre for Research in Economics Madurai, Tamil Nadu, India - 23rd November 2020.
Dr. Hitesh Bhatia
BEST RESEARCH PAPER AT ICSSR NATIONAL CONFERENCE
For 'Recovery of NPA: A Success of Bankruptcy and Insolvency Laws in India' at ICSSR National Conference on Research and Regulatory Aspects in Accounting, Faculty of Commerce, The Maharaja Sayajirao University (MSU) of Baroda - 17th April 2019.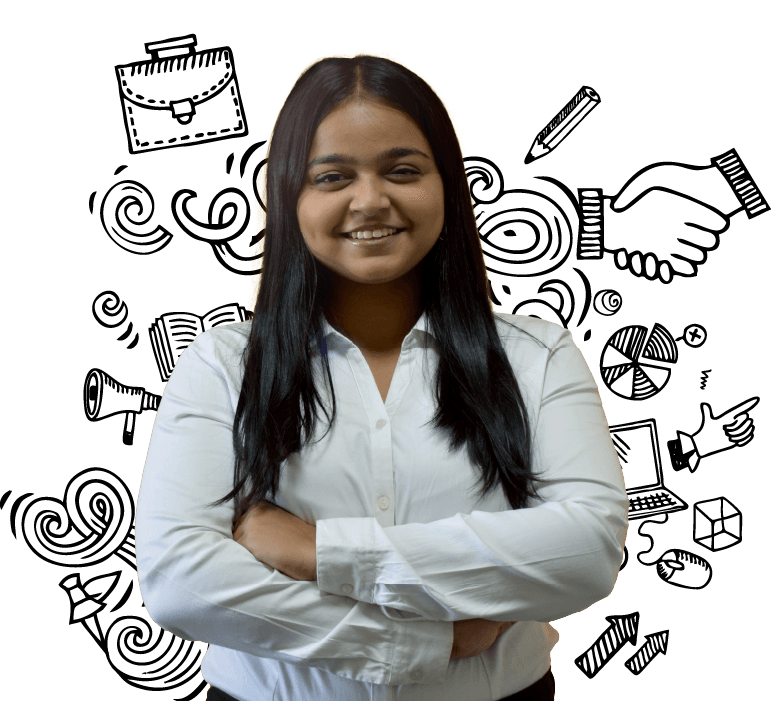 WHEN YOU ARE AT NUV, YOU ARE
Be it campus placements across the A to Z of the corporate world - from Alembic to HDFC and from Infosys to Zydus, pursuing further studies in some of the world's premier educational institutes, founding a start-up or helping grow an existing family business, Navrachana University ensures its students are perfectly placed to pursue their ambition by imparting education that goes beyond just the books.
What Students Say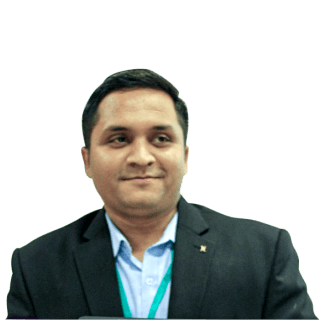 BBA-LLB program at NUV has helped me nurture my love for law and gave me confidence to chase my goals. Faculty at NUV does not only further your interest in subjects but also helps us gather love for interpersonal skills and communication skills.
Neel Thakkar
BBA-LLB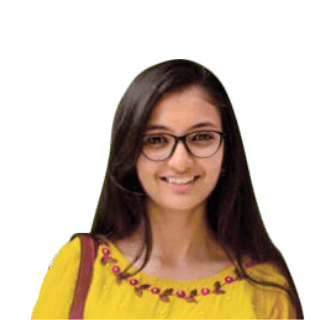 Being part of NUV was like being part of a progressive learning community. BBA at Navrachana University is not just about getting a degree but it teaches us to beat the competition, become the leader, and acquire the skills to be what you want to be.
Heta Shah
BBA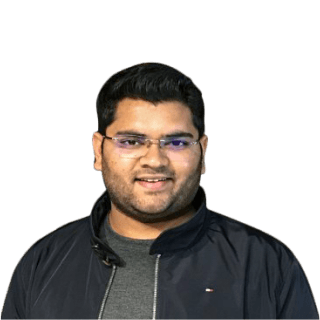 MBA at NUV has helped me explore my inner potential and passion, which has tremendously helped in the effective development of my existing leadership and interpersonal skills. The School of Business & Law helps us prepare ourselves for the corporate world by providing a complete package of constant emphasis on current events, curricular, co-curricular, extra-curricular activities and arranging informative guest lectures to enhance the real-world skills needed for interfacing with the industry.
Romit Patel
MBA
Massive disruptions, intense competitiveness, amplified focus on sustainability and highly volatile global dynamics are the truth of our times.
At NUV we are acutely aware that students who want to be successful in their professional and personal life, need to possess more than just academic knowledge.
They need to become team players and hone their creative skills to be able to solve new-age challenges. They need to nurture and grow their social, psychological, emotional, and ethical quotients. They need to internalise the lessons that playing a sport teaches – that victory and losses are sides of the same coin and not to get disheartened by setbacks. Thus, at NUV we focus on holistic development of our students that goes beyond books and includes art, culture, sports, student-organised seminars, explorations, field trips, etc.

Enhance managerial ability by
organising multiple
extracurricular events


Plan and participate in seminars,
moot court competitions and
legal workshops


Build a strong network with
industry professionals for a
productive career

In-house Magazine
The essence of 'Reminisce', the annual student's magazine, and the School of Business and Law, is to interact, communicate, inspire, and inform the community of readers — within and beyond Navrachana University.

TOP