Apply Online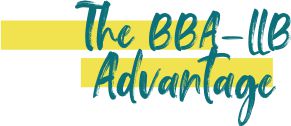 One Course, Two Degrees

BBA-LLB provides an integrated understanding of two fields and the interrelationship between them, while the added benefit of an education in

Management Studies and Law

is that you will receive dual degrees upon completion.
A Wider Scope for Employability

The course owes aspirants employment opportunities in not just the business sector, but also in the field of law. With businesses often in need of legal services, the course gives aspirants an edge over others by being well versed in both fields, and the lucrative opportunity to hold two posts at the same time, with double the responsibilities, as well as income.
Diverse Practice Areas

With increased industry segmentation, a plethora of sub-specialties are open for exploration. Today, lawyers can choose to focus in one or more niche areas including employment law, foreclosure law, civil litigation or in increasingly specialized areas of law, such as Intellectual Property Law, Cyber Law, Taxation Law, Competition Law, Space Law, Medical Law, Sports Law, Commercial Law and more.
Wide Choice for Further Studies

It also opens a host of options for higher education in India and abroad. Over and above an

LL.M (Master of Law)

, now reduced to a 1-year program from 2 years, students may also opt for business oriented courses such as

MBA

and MBL (Master of Business Law).

With its innovative programs and outstanding faculty members who have extensive real-world industry experience, the School of Business and Law, Navrachana University is one of Gujarat's premier institutes committed to creating confident business leaders.

Working in close association with industrial and academic experts, the faculty offers several unique undergraduate and postgraduate programs in the field of Management (BBA and MBA), Law (BBA-LLB Integrated and LLM).

With our integrated program, learn concepts and theories of business management alongside an in-depth education in law. Through the program you will be able to choose your specialization in corporate law, banking law, intellectual property rights, environmental law and labour law, leading you to lucrative career options in practising law as an advocate or as a legal advisor.
Offering a systematic and well-planned career growth in business and law to young aspiring minds, the undergraduate program is duly approved by the Bar Council of India (BCI) and has been designed as per their guidelines. In addition to the regular Management and Law courses, the BBA-LLB program at NUV offers various compulsory and elective courses in the field of communication and liberal education. To ensure holistic personality development of students, they are encouraged to participate in business and management seminars and competitions, as well as a number of special opportunities such as moot court, internships and clinical programs.
The program is designed with an objective to widen students' knowledge by highlighting the interrelationship between Business Theory and Law, while making it relevant to their overall career goals. We are also developing a vibrant mooting and debating culture, to help cultivate the right kind of values, ethics and attitude required for being a socially responsive citizen.
BBA-LLB @ NUV Advantage
Strong focus on informed application of knowledge to real-world law and business challenges
Interdisciplinary approach for holistic learning
Extensive student–social-corporate-legal interaction through internships and projects
Extra-mural activities in the field of technology, arts and culture
Regular screening and training for Moot Court by Moot Court Society
Pedagogy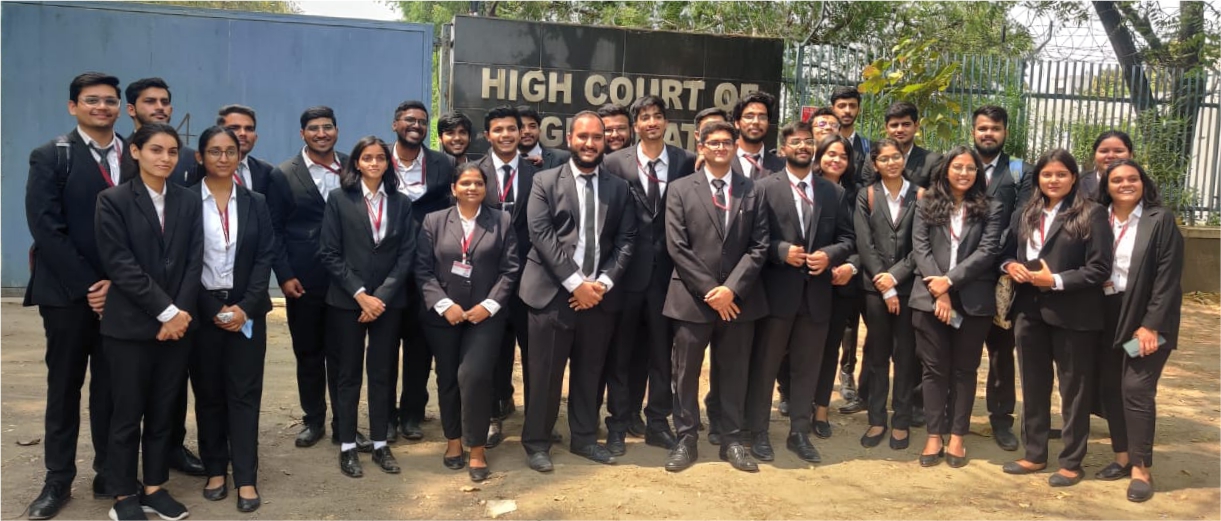 Well-structured classroom sessions, and close personal interaction with faculty
Regular workshops, talks and interactive sessions with business leaders and industry experts
Experiential learning through exclusive visits to select business units
Case studies and projects for application of concepts to real-life situations
Programmed
self-learning and
group learning
Internship & Research Project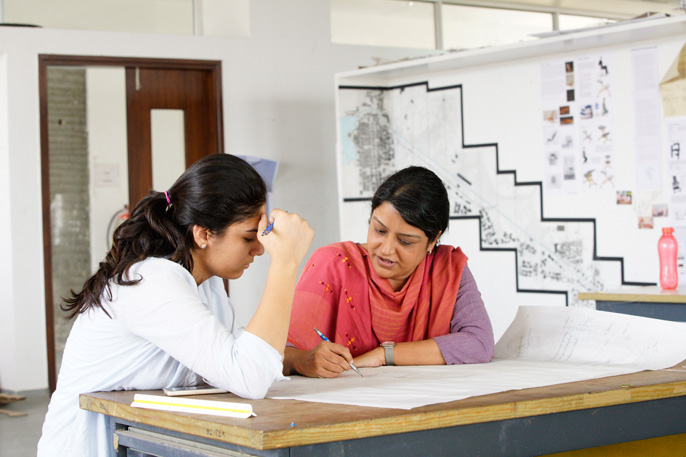 Each student undergoes 5 credit-based, on-job and in-court internships:
| | |
| --- | --- |
| 1 | Four weeks at the end of 1st year with an NGO or CSR department of a company |
| | |
| --- | --- |
| 2 | Eight weeks at the end of 2nd year with a medium to large sized company |
| | |
| --- | --- |
| 3 | Four weeks during the 3rd year with a Law Firm practicing at Local Courts |
| | |
| --- | --- |
| 4 | Four weeks during the 4th year with a Law Firm practicing at High Court |
| | |
| --- | --- |
| 5 | Four weeks during the 5th year at Supreme Court or National Tribunal |
A variety of internships and research projects introduce students to the number of options available to them, helping them decide where they see themselves in the future, career-wise.
Industry Connect
Regular live projects, guest lectures, industrial visits and internships expose students to current market and industry functions and needs, as well as the functioning of legal business and law firms. This enables students to identify areas of interest, explore possibilities and learn from the industry experts in real-life scenarios.

The NUV Industry Connect provides our graduates a double advantage – firstly they are more employable and as they have industry experience, they perform better in their first job and therefore, tend to grow faster.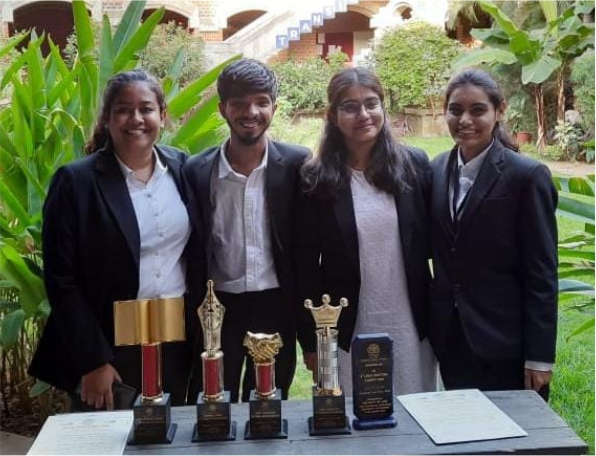 Placements
Our placement process is designed to make recruitment at NUV easy and flexible to optimize your success.
During the placements process
, which begins well in advance, students are recruited for permanent, full-time positions with various firms. The final placement process is conducted after the course completion.
To know more on our Training & Placements process click here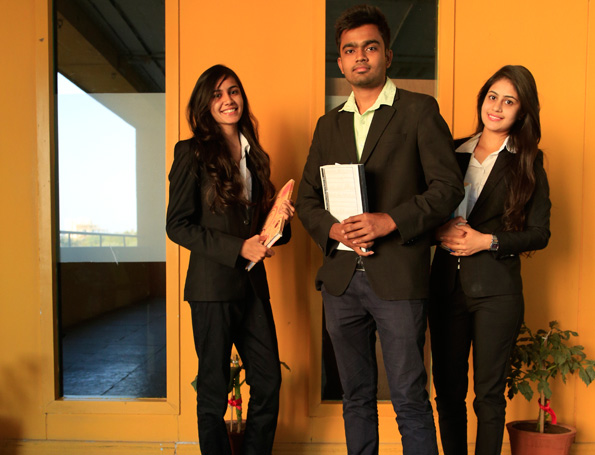 To know more on our Training & Placements process click here











Program Details
10 Semesters
|
250 credits (158 credits in Law, 49 in Management, 43 in others)
|
Class size ranges from 40 to 50
Practice through Moot Court
|
Specialization in contemporary field
Admission Process
Important
Dates

Last date for submitting application Form

Entrance Exam 1

22nd April 2023

Entrance Exam 2

To be announced

Fee Structure

Rs. 50000/- per semester

Duration

Full-time | Five-year | Integrated Degree Program | Approved by Bar Council of India

HSC or equivalent in any stream with minimum 50%
HSC or equivalent in any stream with minimum 45% & 40% for SC, ST candidates

Admission
Process

Written Test followed by presentation by candidate, to assess preparedness, confidence, and presence of mind. Interaction with the candidate to assess potential, area of interest and long-term goals.

Scholarship

Limited number of Merit cum Need Scholarships are available to meritorious students with a score of over 65% marks in 12th Board Exam.
The scholarship is offered to students whose parents combined income does not exceed 8 lakh rupees per year.
Interested candidates must meet Admin Department after seeking admission.

Hostel

Our hostel for boys and girls situated near the NUV campus provides comfortable living with fully furnished rooms, meals and basic amenities like pantry, attached washrooms, gym, reading space, TV room and much more.

Click here to know more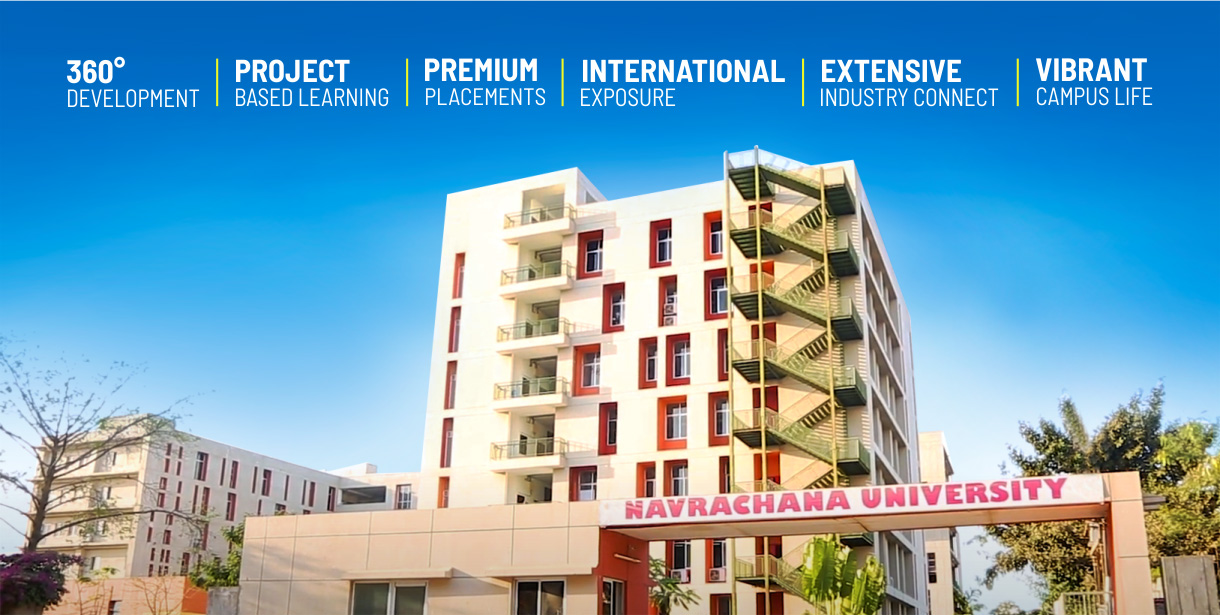 The world you will encounter when you graduate three or four years from now, will not look anything like what it was when the textbooks were written. To ensure our students excel in a world that is changing at a never before rate, we at Navrachana University have developed a holistic curriculum wherein the emphasis is not just on gathering knowledge but on 'informed application in the real world'.
Our students are exposed and taught to deal with constantly unfolding unknowns. The goal is to train their mind to be alert, analyze and adapt at an accelerated pace, and swing into action early so that they can lead the change. If you are looking to invest in education that will go beyond your first job and give you a lifelong competitive edge, Navrachana University is where your search ends.
Click on each school to know more about the courses offered
Other Programs Offered at NUV
TOP