Apply Online
SCHOOL OF
ENVIRONMENTAL DESIGN AND ARCHITECTURE
SEDA's dynamic and challenging curriculum is led by the school's highly accomplished faculty and guest lecturers, who are also working professionals and experts in their field of specialization. Students' creativity and critical thinking capabilities are enriched through extensive design investigations and explorations, to not just expand their knowledge, but also to confront the complexities of the modern built environment.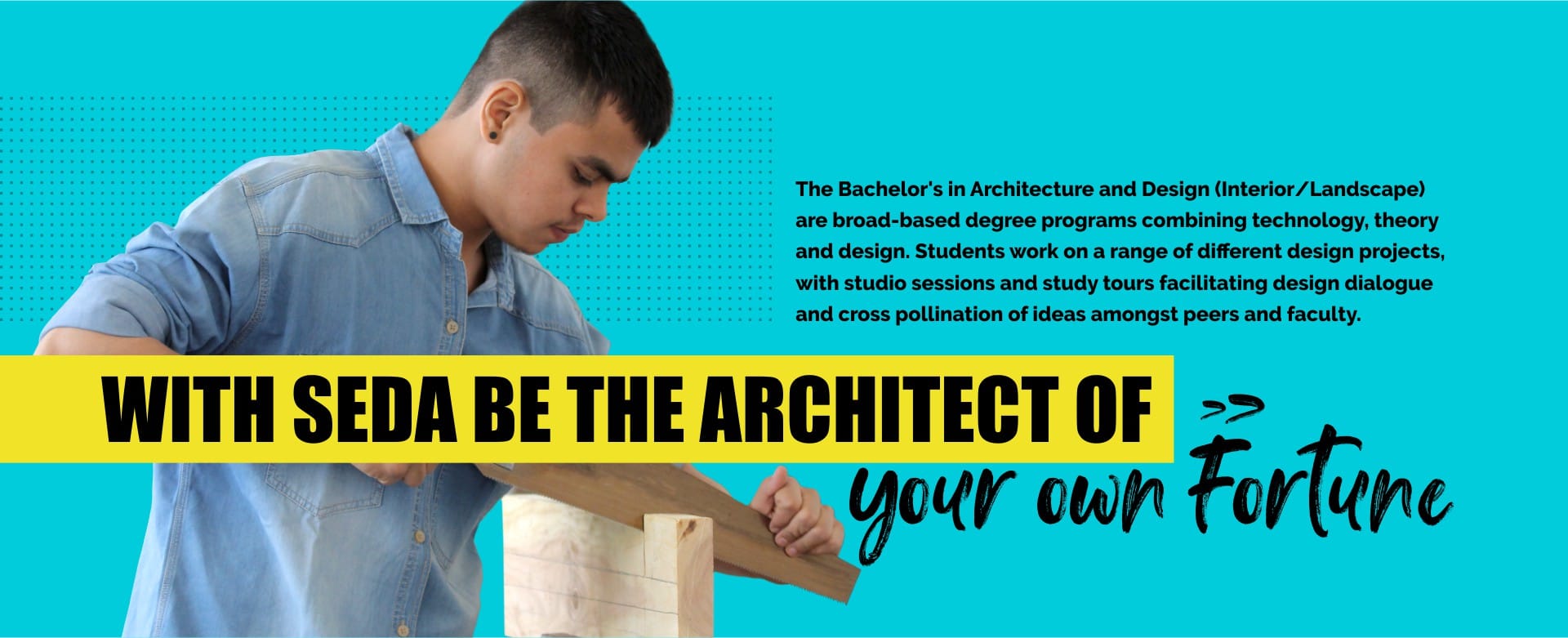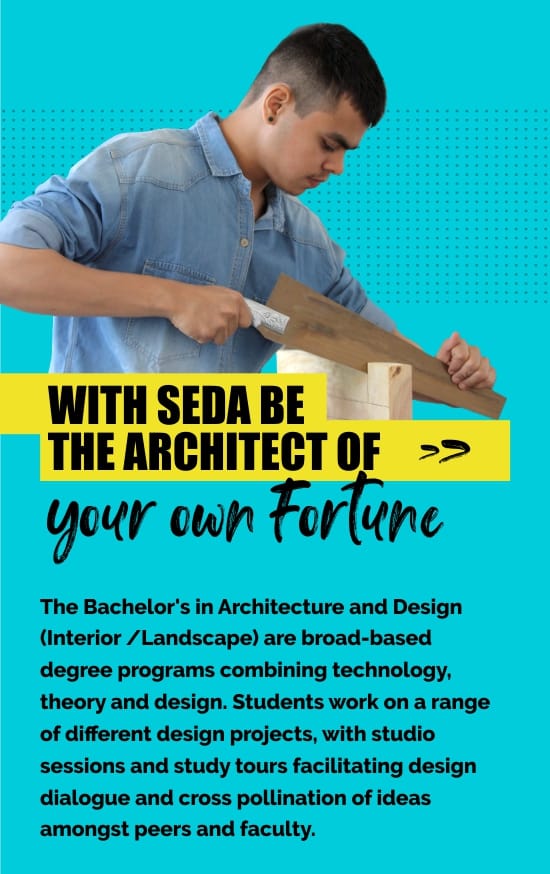 Degree Programs
Bachelor of Architecture
The Bachelor of Architecture (BArch) program goes beyond just training students to fit into the professional field. It introduces and develops the skills and knowledge to be thought leaders and innovators in practice. The interactive studio and workshop, along with close personal interaction with faculty, are the hallmarks of the teaching-learning environment here.
Bachelor of Design
(Interior/Landscape)
A highly flexible Bachelor of Design program (BDesign), where students can choose to specialise in Interior or Landscape Design, and opt for a number of courses from either of the two fields to tailor their degrees as per their interests.

The Interior program is geared towards hands-on learning through Space Planning, Residential, Adaptive Reuse, Retail and Corporate Interiors, Furniture Design and more, supplemented by technical and skill-based courses. In the Landscape program, students will be trained as professionals who are best equipped to deal with open living environments in a responsible and imaginative manner with an emphasis on sustainability of urban and natural environments.
The Architecture and Design curriculums include design studio, theory, visual studies, history, technology, and professional practice, with design as the central focus of instruction. With a practical and interdisciplinary learning approach, each program is designed to develop outstanding, industry-ready professionals.

Enabling Creative Vision
Whether it's a presentation
model, material study or
conceptual explorations,
our cutting-edge facilities
will help bring your
creative vision to life.

Learn From Professionals
SEDA's faculty are all
professionals, who bring
real-world knowledge and
experience to the
classrooms and studios.

One-on-One Mentoring
At SEDA, we take mentorship
seriously, because architecture thrives on the exchange of ideas and thoughts. Over a cup of chai or out in the field, every student receives thoughtful guidance.

Practical Work Exposure
Our contemporary studios
class hours to encourage
hands-on work exposure and
promote synergy and group
dynamics required to foster a
shared learning process.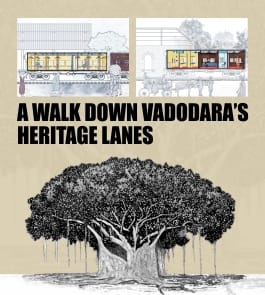 NUV's Center for Heritage Research, managed by SEDA, organised two heritage walks on 18th and 19th September focusing on heritage structures in Vadodara. The first walk 'Laurie Baker in Vadodara' covered three iconic buildings at Jyoti Ltd. and Navrachana School, Sama that were designed by the famous British-born Indian Architect. The second walk, 'Narrow Gauge Railway Heritage' was at Pratapnagar Railway Station, which covered carriages and other railway engineering structures from the past.

A week of rigorous hands-on exercise, where each student selects a project and works under a mentor to build different installations. This year, the projects revolved around five topics: Mural Design - A tribute to KG Subramanyan, Revive The Water Body, Generative Paper Tube, Bridge The Gap, and Every Campus Has A Story To Tell.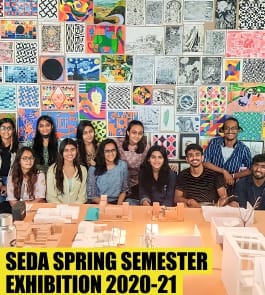 A curated showcase of a range of interesting projects on architecture and design created by students of SEDA. Faced by the constraints of the pandemic, students were inspired to innovate and present unique perspectives.
Previous
Next
ACADEMIC ADVISORY BOARD
Our Academic Advisory Board gives vision to what the pedagogy must strive to achieve. It provides support and advice to academic programs, assists in the development of new programs, and identifies best-practice standards. Our Board comprises industry leaders, professionals and some of the sharpest academic scholars.
Awards & Accomplishments

Kairavi Gandhi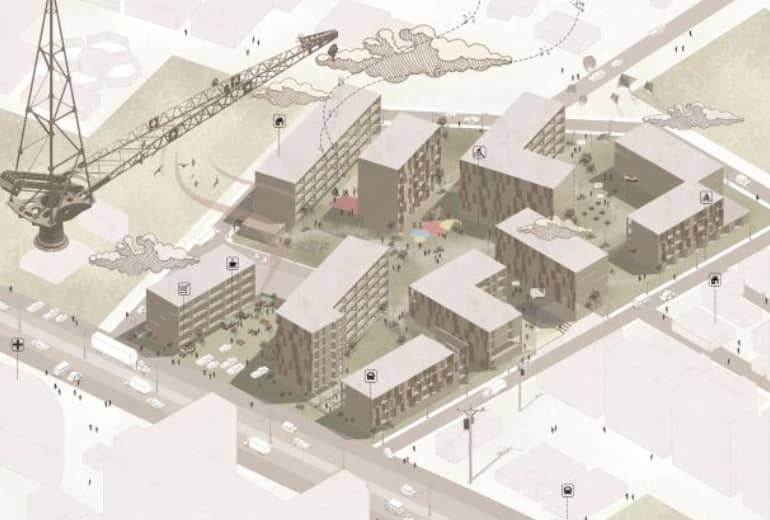 HONOURABLE MENTION AT CHARLES CORREA GOLD MEDAL
SEDA alumni (Batch of 2016-21), received an
honourable mention for her entry 'Designing
a social housing in Vadodara' in the
prestigious CCF gold medal.
...>>

Ansh Shah
MEMBER OF WINNING TEAM FOR SUSTAINABLE HOUSING CHALLENGE
SEDA (Batch of 2017-22), was
shortlisted and received a certificate
of appreciation for his entry in this
challenge organised by Architerrax.

Dhruvin Thakkar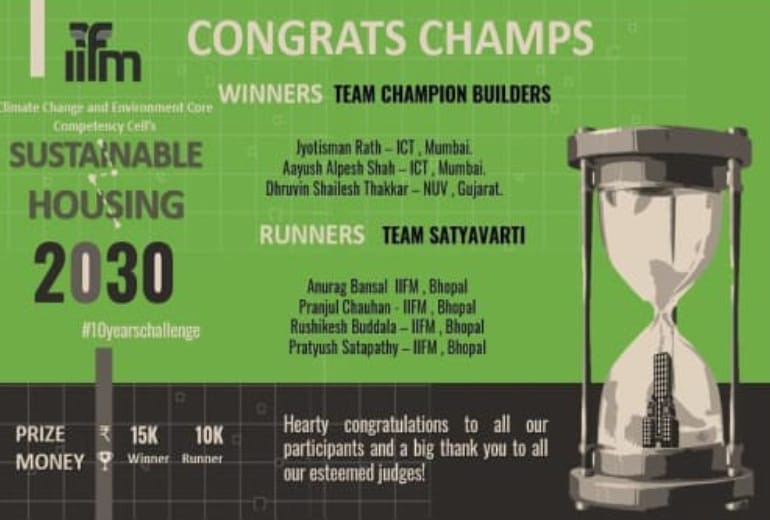 MEMBER OF WINNING TEAM FOR SUSTAINABLE HOUSING CHALLENGE
An inter-college event by Indian
Institute of Forest Management, Bhopal,
to encourage students to explore
sustainable architecture.

Dhruv Shah & Ansh Shah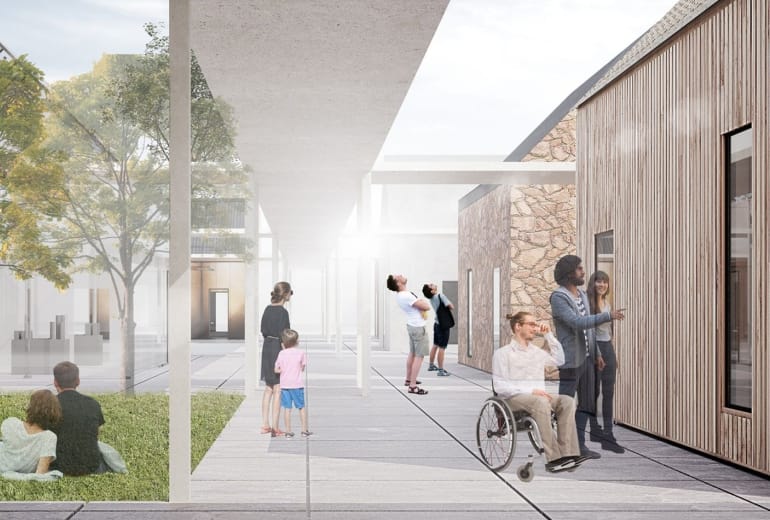 SHORTLISTED FOR THE DESIGN COMPETITION, HAPTIC DESIGN
Both B-Arch students of SEDA had their
design entries shortlisted for Haptic
Design: A Museum of Material,
Barcelona
...>>

Prof. Pratyush Shankar
NUV SEDA DEAN APPOINTED TO NITI AAYOG'S EXPERT COMMITTEE
Prof. Pratyush Shankar has been
invited to join as a member of the expert
committee of NITI Aayog on "Architectural
Framework for Hill Regions"
...>>
Previous
Next
Photo Tour
Through the program, students will enjoy the benefits of working at our state-of-the-art facilities, like the SEDA Material Lab, wood workshop, pottery and photography labs. The equipment that students use are some of the most advanced and sophisticated ones available in the country and on par with international benchmarks.
What Students Say
The students of SEDA are very active and facilitate a lot of student-driven activities, right from organizing design and architecture lectures, music and jam sessions and managing their own Newsletter and Instagram page. With the freedom to form their own clubs, discussion groups and encouragement to spend time on campus, we aspire to promote a free and thriving student culture at SEDA.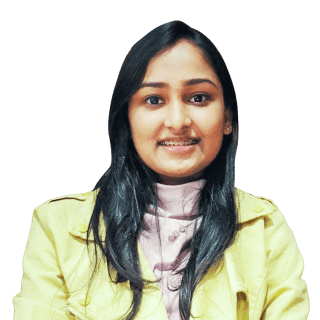 SEDA is where the learning begins. This is where you find yourself, a friendly atmosphere and a happy moment. From discovering new ideas to focusing on the details helped me grow every day. I am filled with joy and gratitude with my journey.
Chaheti Vohra
BDesign, 2016-2020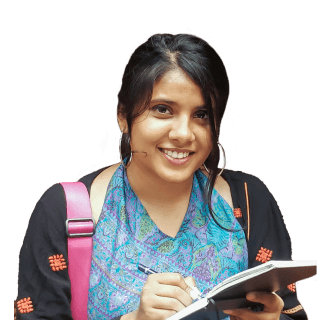 A 5-year program in architecture is expected to teach design and all the technicalities related to it. In SEDA, I learnt to ' think' about designing first, followed by the act of it. The consciously curated curriculum exposed me to various methodologies in thinking, as well as approaches to orient my thinking towards design. I learned about myself and my deeper inclination towards psychology and its interrelation with the built environment. SEDA gave me an opportunity to explore this inquiry in the form of a research based thesis focusing on people having autism and other mental health conditions. This opportunity shaped my trajectory and landed me the Anant Fellowship on a full scholarship to further understand various nuances to this.
Shivani Shah
BArch, 2015-2020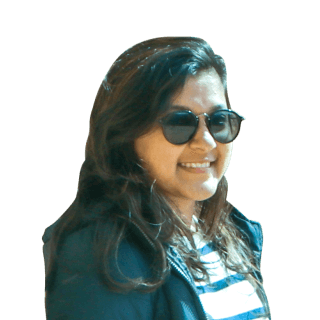 Learning at Navrachana University is something I will always cherish and look back on. The pedagogy of the program not being confined, but reflecting a diverse range of subjects allowed me to think freely which led me to various opportunities. The Studio courses mainly curated around and focused on the "Design Process" along with careful consideration of history, context, environment and the futuristic possibilities; helped to shape my thinking which served as a strong base while pursuing my Master's at Deakin University in Australia. This emphasis on the "Design Process" and its consistent practice always made me stand out from the rest during my Master's program. After my recent completion of the course, presently I am working with local Architects and Designers in the Design city – Geelong, Australia.
Vrunda Soni
BArch, 2015-2020
In-house Newsletter
APPROACH is a newsletter made and designed by the students of SEDA, for those seeking knowledge about different things related to architecture. This is an online platform that serves as an archive of articles, research papers, essays etc, by and for the students of SEDA, Navrachana University.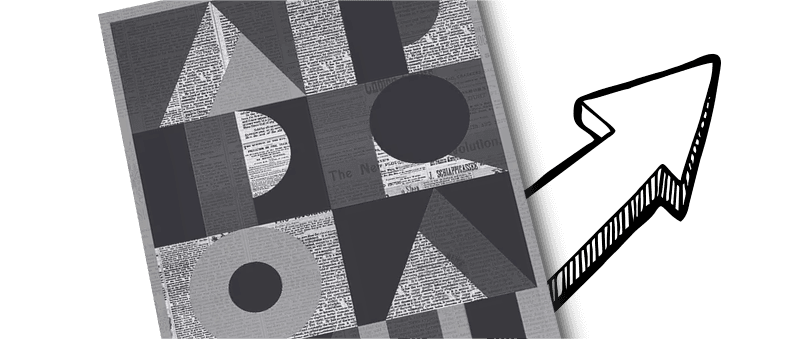 RESEARCH CENTER
SEDA recently launched the Navrachana University Center for Heritage Research to carry out new research investigations in understanding the value and significance of heritage buildings. In a very short period of time, the Center has already garnered international attention through its various initiatives. Students and faculty members work together on projects right from documentation, research, publications and exhibitions as final outputs. All students are welcome to work at the Center under the guidance of faculty.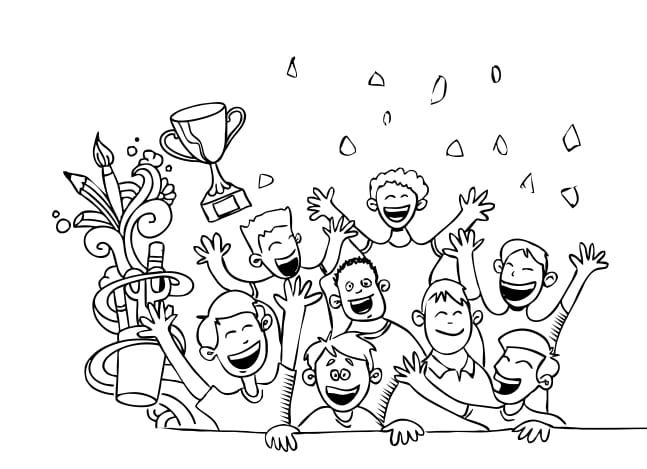 Massive disruptions, intense competitiveness, amplified focus on sustainability and highly volatile global dynamics are the truth of our times.
At NUV we are acutely aware that students who want to be successful in their professional and personal life, need to possess more than just academic knowledge.
They need to become team players and hone their creative skills to be able to solve new-age challenges. They need to nurture and grow their social, psychological, emotional, and ethical quotients. They need to internalise the lessons that playing a sport teaches – that victory and losses are sides of the same coin and not to get disheartened by setbacks. Thus, at NUV we focus on the holistic development of our students that goes beyond books and includes art, culture, sports, student-organised seminars, explorations, field trips, etc.
TOP