Apply Online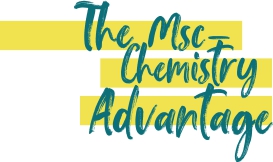 Experiential Learning

Learn faster by doing it with an MSc chemistry degree. Apply classroom theoretical learnings into practical experimentation and apply the knowledge gained to turn ideas into innovations through industrial trainings and internships.
Learn More Than Chemistry

Gain vital skills through master of science in chemistry with research, critical thinking and writing, and collaborative problem solving, which are essential to success in the career market place today.
Develop Technical Knowledge

The advantages of a Master of Science degree in Chemistry come from its fields of specialization, both in Organic and Analytical Chemistry. Because MSc degrees are founded on the sciences and math, this option is advantageous for those who wish to have a more technical career path from MSc chemistry colleges.
Discover Varied Opportunities

Industrial Chemistry MSc finds application in a variety of fields that include drug and pharmaceutical industries, research laboratories, cancer research institutes, waste management, environment control and food processing.

The School of Science
at NUV focuses on disciplinary and a wide range of interdisciplinary courses to broaden students' perspectives and knowledge in Science. The high-quality courses are conducted by qualified teachers, along with guest faculties from the industry, subject experts and independent researchers. The school also collaborates with the industry for research and development on real life projects, making students industry ready.
A robust placement assistance program is in place at NUV that bridges the gap between the student's aspirations and industry expectations. Some of the leading companies in pharmaceuticals and clinical research employ students from School of Science at
NUV
.
Working in close association with industrial and academic experts, the School offers several unique undergraduate and postgraduate programs in the field of Science, with degrees in BSc, BMS and MSc. NUV's School of Science ensures that graduates with an MSc in Chemistry, whether they specialize in MSc in Organic Chemistry or MSc in Analytical Chemistry, are well-equipped to secure promising positions in renowned companies through its comprehensive placement assistance program.
NUV has been recognized as a Postgraduate Capacity Building Cell by the Gujarat Government. Recognized as the best colleges for MSc chemistry in Gujarat and being a part of this cell, we undertake rigorous year-round training and orientation programs, including capacity building lectures, guest lectures, weekly progress-assessing tests, aptitude tests, mentoring sessions, group discussions and develop a collection of resources towards creation of competitive manpower.

MSc Chemistry program offers two specializations: 1) Organic Chemistry and 2) Analytical Chemistry, designed to enhance and develop the scientific skills demanded by employers in the industry or academia. Students are also encouraged to take advantage of a wide range of electives, including Patent Laws & Patenting, Supramolecules, Nanomaterials, Medicinal Chemistry, Phytochemistry, Forensic Science, Preclinical studies, Clinical studies etc.
The Chemical Industry accounts for over half the value of Indian companies and hence chemistry is vital to the economy. Take advantage of this need for skilled employees by increasing your knowledge, confidence and expertise in the field through our Chemistry program. An MSc in Chemical Science is a postgraduate program that delves into the fundamental principles and advanced concepts of chemistry, preparing students for careers in research, industry, and academia. Through lectures, hands on laboratory work, presentations and independent dissertation thesis, you will receive training aided with research methodologies and shall also focus on important issues related to Organic Chemistry and Analytical Chemistry, in a sustainable manner.
The MSc in Chemistry course consists of three distinct parts; the first concentrates on specialization course (Organic Chemistry & Analytical Chemistry), the second covers a wide range of chemistry electives, and the final part focuses on the application of specialization in a research project.
The program is designed with an objective to widen students' knowledge as well as prepare graduates with a holistic education approach that includes communication skills, ability to effectively coordinate and contribute as a member of multidisciplinary teams, to appreciate and respect diversity of opinion, and be considerate towards global, societal, environmental and ethical issues.
There are several MSc chemistry colleges in Gujarat offering students a strong foundation in the study of chemical sciences and ample opportunities for research and career advancement in the field, but NUV stands as on the top position covering all best aspects.
MSC-Chemistry @ NUV Advantage
Strong links with Business and Industry to ensure practical education and to respond to emerging industry requirements
Interdisciplinary approach for holistic learning
One complete year dedicated to research project
Visiting faculty from the Industry for relevant exposure and periodic curricular updates in keeping with Industry requirements
Strong links with Business and Industry to ensure practical education and to respond to emerging industry requirements
Interdisciplinary approach for holistic learning
One complete year dedicated to research project
Visiting faculty from the Industry for relevant exposure and periodic curricular updates in keeping with Industry requirements
Pedagogy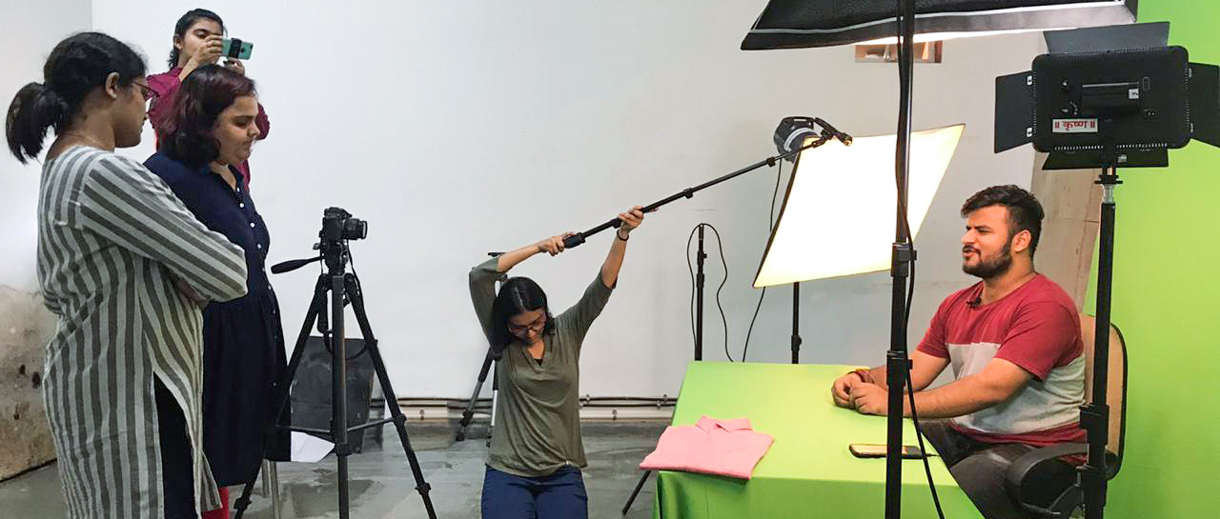 Well-structured classroom sessions, and close personal interaction with highly qualified faculty members
Regular workshops, talks and interactive sessions with industry experts
Experiential learning through hands-on work in state-of-the-art well equipped laboratories
Participation in real-life project to receive practical education
Programmed self-learning and group learning
Internship & Research Project
4-6 weeks Summer Internship (End of Semester II) in leading
Pharmaceuticals, Chemicals, and allied industries

One complete year dedicated to research project.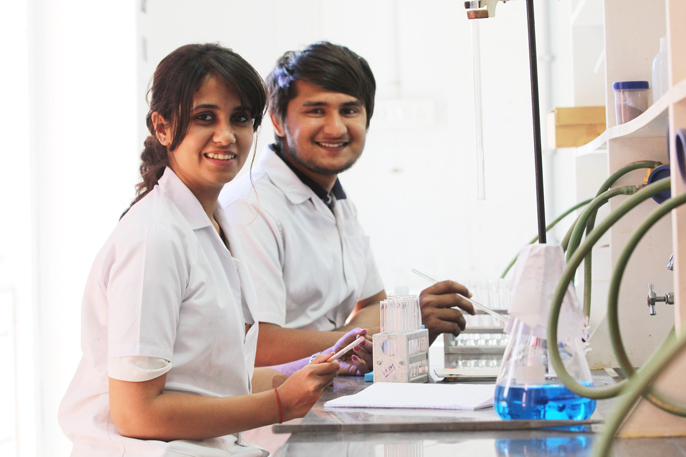 Industry Connect
Regular live projects, guest lectures, industrial visits and internships expose students to current market and industry functions and needs. This enables students to identify areas of interest, explore possibilities and learn from the industry experts in real-business scenarios. Additionally, MSc industrial chemistry colleges in Gujarat equips students with the skills needed for careers in chemical manufacturing and industrial sectors.

The NUV Industry Connect provides our graduates a double advantage – firstly, they are more employable and as they have industry experience, they perform better in their first job and therefore, tend to grow faster.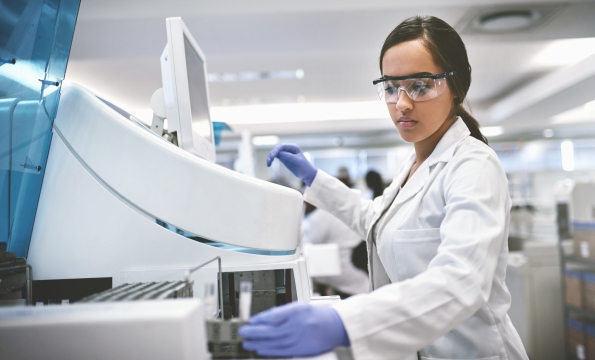 Placements
Our
placement process
is designed to make recruitment at NUV easy and flexible to optimize students' success. During the placements process, which begins well in advance, students are recruited for permanent, full-time positions with various firms. The final placement process is conducted after the course completion.
A major portion of placements for students from NUV come from leading organizations like Zydus-Cadila Healthcare, Reliance Industries, Alembic Pharmaceuticals, IPCA Laboratories, JDM, SRF, SudeepPharma, Oxygen Healthcare (O2H), L&T, GE, Siemens, MG Motors India, InoxCVA, INFOSYS, PHONE PE, Indiamart, TCS, e-Infochips, Netweb Software Solutions, AT Inks, HDFC Ltd, Digit General Insurance and more.
To know more on our Training & Placements process click here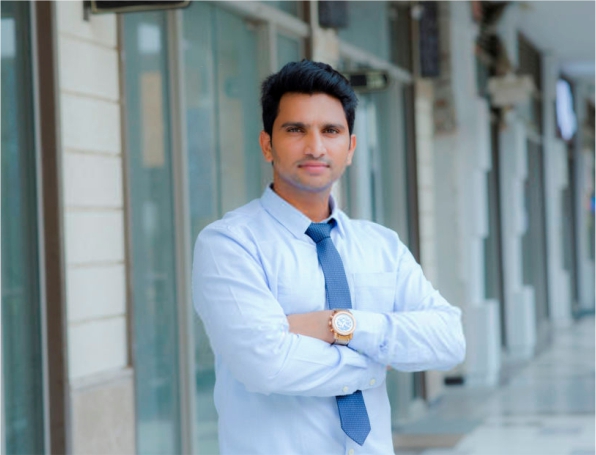 To know more on our Training & Placements process click here











Program Details
4 Semesters
|
95 credits
|
Class size 15 each in Organic Chemistry and Analytical Chemistry
Admission Process
Duration

Full-time | Two-year | Postgraduate Degree Program

Eligibility

Bachelor's degree from a recognized University/Institution having Chemistry as a major subject. Those who are due to appear in qualifying examination can also apply.

Admission
Process

Multiple Choice (Objective) written test followed by Interview with

Chemistry Admission Team

. Admission based on Merit (written test & interview).

Scholarships

Limited number of Merit Scholarships are available to meritorious students with a score of over 70% marks in Scholarship exam

The

scholarship is offered

to students whose parents combined income does not exceed 8 lakh rupees per year

Interested candidates must meet Admin Department after seeking admission

Hostel

Our

hostel for boys and girls

situated near the NUV campus provides comfortable living with fully furnished rooms, meals and basic amenities like pantry, attached washrooms, gym, reading space, TV room and much more.

Click here to know more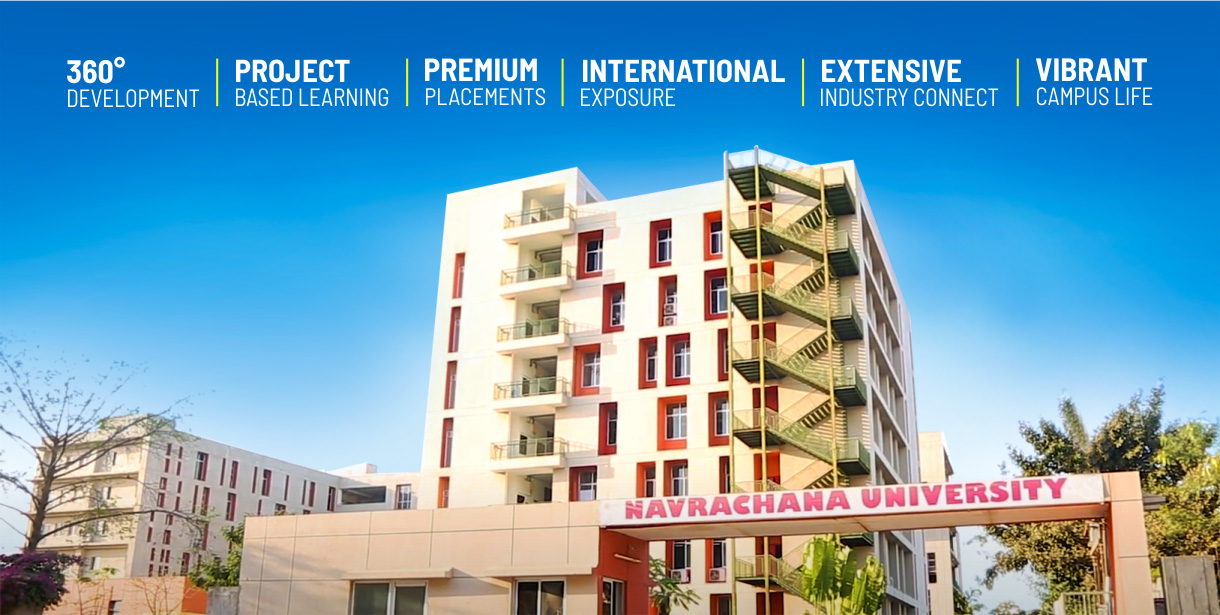 The world you will encounter when you graduate three or four years from now, will not look anything like what it was when the textbooks were written. To ensure our students excel in a world that is changing at a never before rate, we at
Navrachana University
have developed a holistic curriculum wherein the emphasis is not just on gathering knowledge but on 'informed application in the real world'.
Our students are exposed and taught to deal with constantly unfolding unknowns. The goal is to train their mind to be alert, analyze and adapt at an accelerated pace, and swing into action early so that they can lead the change. If you are looking to invest in education that will go beyond your first job and give you a lifelong competitive edge, Navrachana University is where your search ends.
Click on each school to know more about the courses offered
Other Programs Offered at NUV
TOP